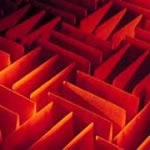 3. Microphones | Page 4
Microphone Patterns (single microphone)
Depending on their design and construction, microphones respond to sound coming from different directions with varying degrees of sensitivity. A plot or graph of this response is called a polar pattern (sometimes polar response curve). Two-dimensional polar patterns are slices through the central axis of a three-dimensional pickup pattern which you can imagine in 3D by rotating the plot 360° on its x-axis, or viewing this 3D Beyerdynamic plot (it looks more like a futuristic tech graphic from a Spiderman movie).
The most frequently used single microphone patterns are (select to scroll to plot):
Cardioid | Hypercardioid | Supercardioid | Figure-8 | Omnidirectional
One pattern is not 'better' than another—it depends on how you choose to use a particular mic, which sound characteristics you are most after (more or less room ambience, feedback avoidance for live sound, etc.), and what the nature of your sound source is. It is important to note that polar patterns are frequency-dependent. Typically, low frequency response will be almost omnidirectional; the polar pattern, even for omnidirectional mics, will become more directional as frequency rises. For our purposes, a general graph of patterns are used here, but before putting a lot of money down on a good microphone, it may be prudent to view the pattern response for various frequency bands for the mics you are considering and make sure it is best suited for the uses you have in mind. For example, this AKG C414 XLS hypercardioid plot (hover to see, click for full C414 data sheet) indicates a much wider pickup pattern for 2 kHz-8 kHz than for 16 kHz and above. The degree of pattern difference in these frequency bands as sound moves around a mic off the front is called off-axis coloration. Typically, as is the case with this C414 plot, many mics lose their higher frequency sensitivity off-axis compared to their low end.
Polar Pattern Plots: The direction of the arriving sound relative to the axis of the mic called the angle of incidence. Looking at a mic's polar pattern will tell you how directional it is, how well it will reject sound from certain directions, etc. The plots aid in assessing the pattern's acceptance angle which can be defined as the angle before sensitivity drops -3 dB. As you examine the plots below, note for example that the standard cardioid would have a 120° angle of acceptance while the supercardioid would exhibit an angle of acceptance of roughly 100°, indicating the degree of directionality of the mic choice.
Some microphone patterns are bidirectional because they have more than one 'lobe' or area of response bounded by a null or near-null where virtually all sound is rejected. Sound entering these lobes are in usually in reverse phase to their 'on-axis' counterpart.
How to Read: The plots on this page indicate the amount of sensitivity relative to angle of incidence, with 0° being directly on-axis to the front of the mic. The concentric circles show descending sensitivity in -5 dB increments. Looking at the cardioid graph immediately below, it indicates that for sound arriving at 0°, the relative sensitivity is at the maximum, with 0 dB attenuation, but for sound arriving 120° off-axis, the sensitivity drops by approximately 12 dB's, as the plot crosses between the -10 and -15 circles at the 120° mark.