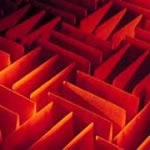 1. A Brief History of Sound Synthesis
Sound synthesis can be defined as the production of sound that originates electronically from scratch by either analog or digital circuitry, hence "synthetically," as opposed to sound whose origins derive from recorded or sampled real-world sonic events. Oscillators, noise generators and the like originate the necessary electronic signal; filters, reverbs and enveloped amplifiers may modify it before the signal is sent to loudspeakers for acoustic propagation.
In the late 1940's/early 1950's separate European musical aesthetic movements developed around this distinction. The French championed musique concrète, whose 'objet sonor' or sonic object was to be derived from real-world acoustic events and their societal context (Pierre Schaeffer, Paris studios at Radio-diffusion-Telévision-Française or RTF, later became GRM). The Germans initially were most interested in a purely electronic signal flow from start to end which they called Elektronische Musik (Eimert and Stockhausen, Cologne studios at Nordwestdeuthcher Rundfunk or NWDR, later became WDR).
This distinction did not necessarily last long, with works such as Stockhausen's 1955-6 Gesang der Jünglinge, or Varèse's 1958 Poème Électronique combining both synthetic and real-world sound sources. The catch-all term of electroacoustic (or electro-acoustic), whose true meaning is still debated today, seemed to cover all music whose origin, reproduction and diffusion was not strictly acoustic from beginning to end. As well-known electronic composer Barry Schrader notes, this could also encompass the playing of a Mozart symphony from a record, tape or digital file, so we are still in search of a mutually-satisfactory term to describe what we do (or even when to hyphenate when we find it!).
Early Examples
First let me say that an amazingly-detailed catalog of early instruments, lovingly curated by Simon Crab, can be found at 120 Years of Electronic Music, with information and images far beyond the scope of this short page.
The history of circuits or instruments that created sounds synthetically can be traced back to the 19th Century. Elisha Gray (who lost the telephone patent to Alexander Graham Bell by hours) patented the Electro-harmonic telegraph in 1876, which in effect produced musically-pitched hums from oscillating circuits controlled by a piano-like keys (propagated acoustically through a vibrating washbasin, as amplification had not yet been invented). The 'instrument' eventually spanned two octaves of keys, and several public concerts were given.